Apparently, stealing is awesome if you take the design you've stolen and white out things and replace them with your own information.
A few of you will remember a little while ago when I made a new ID for myself (here:
img.photobucket.com/albums/v43…
. Because it's animated, and I didn't want to have to put a small preview picture up, I left
James'
lovely gift art up as my ID and put the new ID in the spot of my webcam picture. I put no little amount of time into making this; it's not the most complex ID in the world, but I put time and effort into finding a reference I needed in the comics (and I finally found a good reference picture in an issue of Ms. Marvel of all places) and putting all of the elements together to make something unique for myself. I'm sure other people have made S.H.R.A. ID cards for themselves, but I can guarantee that they look different in some ways because they made their own and I made mine.
It wound seem that
!
dragonoflightning
thinks that because it's posted as a "webcam" picture instead of a deviation, that makes it super awesome and a great idea to steal it and use it for herself. At first, I was more curious than anything else--a sense of, "Wow, this looks a lot like the ID I did. That's kinda cool." Upon further inspection, I realized that it looks a "lot" like the ID I made because it IS the ID I made.
If you
look at her deviation
, you'll see that she mentions that she got it "someplace" on devtard. Well, gee, I wonder where that could be? Especially considering that she posted her copy-and-paste ID about an hour after she visited my devtard page, according to the timestamps on her deviation and on my list of recent visitors. She blames the "crappiness" of using white boxes to block out my information and put in her own on a lack of knowing how to use Photoshop or other editing software properly. Well, guess what? I don't care if you can't take the ten minutes it takes to learn to properly use Gimp or Photoshop or whatever other art program to make something of your own.
That doesn't make it right to steal things off of other people's pages
. There is no blank version because I never put one out; and did she even bother to ask? Did it ever occur to her to send me a note and say, "Hey, I like your SHRA ID card. Where did you get it/Do you know where I can get a blank template?" Hell, I might have even given her a blank version if she had. But, no, she didn't think it necessary to be considerate in that regard and instead just stole my ID and pasted over my information with her own.
In the end, I suppose it doesn't really matter as much as I'm making it out to be; she did paste over my artwork with her own--and the closest that anything comes to being my artwork elsewhere on the ID is the quick redraw of the SHIELD logo that I did in Illustrator, but it took all of five minutes to do, so I'm not that upset in that regard. What I am aggravated about, however, is the idea that people will just take things without having the common courtesy to even ask first. I might not even be that offended if she had said "I got this off of Marron's page" instead of "I found this on dA someplace." Like I said, if she had asked me, I probably would have given her a blank template. Now, however, all
!
dragonoflightning
gets is to be put On Notice.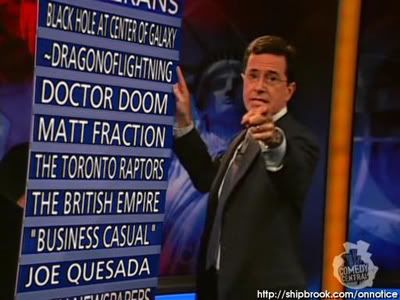 Courtesy of Shipbrook.com